This was such fun!
Just a little after 5PM I used Random.org to pick six winners. Random.org actually generates truly random numbers based on atmospheric noise, which is pretty neat if you're a nerd like me. Here are the results!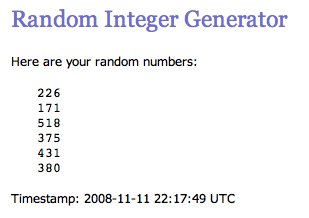 So you don't have to scroll through all 671 comments, here are the winners:
#226 Elizabeth
"i hope i win!!!"
#171 Emme
"Apple butter is my favorite — it's like the essence of fall. The only thing that stands a chance of beating it is pumpkin butter "
#518 Stephanie
"I love your site – the photos, the recipes, and the enthusiasm. Thanks for sharing your talents. I'll definitely try out the iPhone app too. Way cool!"
#375 TiffanyL
"This is my first comment on your blog but I check it everyday for new amazing recipies and wonderful pics. You inspire me to be a better cook but more importantly to transition from a vegetarian to a vegan. what great work you do! Cheers
Oh did I also mention that I LOVE apple butter and I sometimes have a hard time finding it!
Tiffany"
#431 Angela
"Thanks so much for all your yummy recipes! The apple butter looks delicious!t"
#380 Ale
"Apple butter.. I've never tried it, but I saw a recipe of a cake that used apple butter. I think I'll make some. I love your blog"
——————–
The winners should have an email from me in their inbox right now. Thanks to everyone for entering the contest. It was so much fun, I'm sure I'll hold another one before too long. I love my readers! Yay!