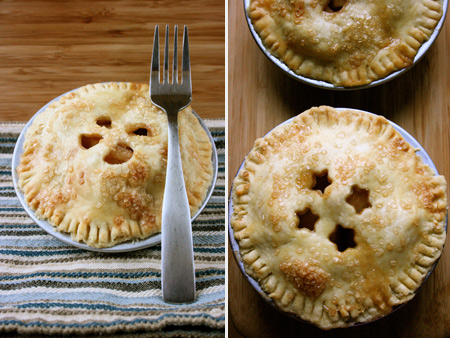 These are easy. The hardest part about them is making the dough, so they're a breeze for people who are used to pastries and a good practice item for people who aren't. I kept the seasoning here very simple – sugar, cinnamon, and a wee bit of lemon juice. That's it. If you have two apples and some flour, you can make these right now. The only limiting factor might be the mini pans, but this will easily become a full size pie if you use all of the dough and cut up a few more apples.
They are a little on the tart side, so if you prefer very sweet pies add some extra sugar. The crust is unbelievably flaky and buttery-tasting, thanks to earth balance and Martha Stewart, since I adapted her pate brise recipe. See below for the recipe and pictures!
Miniature Apple Pies
Makes four
2 Granny Smith Apples, peeled and chopped (see below)
1 tsp Fresh Lemon Juice
1 Tbs Sugar + more for sanding
1/2 tsp Cinnamon
1/2 Recipe Pate Brise
3 Tbs Soymilk
Pate Brisee
2 1/2 Cups Flour
1 Cup Earth Balance
1 tsp Sugar
1 tsp Salt
1/4 Cup + Cold Water
Prepare the dough, divide in half and flatten into discs. Cover each disc in plastic wrap and chill for 1 hour. (Directions and pictures here)
Preheat the oven to 400ºF. Peel the apples. Quarter each apple and remove the core from each slice. Cut each quarter in half, and in half again (making four slices from each quarter. Cut these slices in half again, crosswise this time, to shorten them. Place cut apples in a bowl.
Coat apples in lemon juice, then add sugar and cinnamon and mix well. Set aside.
Roll out your disc of pate brisee onto lightly floured parchment paper. You want to hit about 1/4 inch, but it's not a big deal. Find something roughly 5″ in diameter to with which to cut circles of dough – it can be a small bowl, the top of a vase or a large beer mug, the pastic containers you get a grocery store in the bulk section, a cookie cutter – anything. Cut out 4 circles, and roll each circle out, one at a time, until about 1/8″ thick and large enough to fill the bottom of your pie pans.
Gently place the dough into the mini pans and flatten it out as much as you can. You want the dough to hang over the edges just a bit. Fill each pie with apples, as compact as you can, since they'll cook down in the oven. Use all the apples, even if you have to make them into a mound in order to fit them.
Cut out 4 more dough circles, rolling each out individually to reach the final thickness. Use a small cookie cutter (or anything, really) to make cute vents, or even just make small slashes witha knife. Place on top of the apples, pressing down with your thumbs to seal. Use a fork to crimp the edges.
Add a few dribbles of lemon juice to the soy milk to curdle it (it shouldn't taste overly sour, though). With your fingers or a pastry brush, coat the top of each pie. Sand the tops of the pie with a coarse sugar. Regular sugar works fine, though!
Place pies on a cookie sheet and place in the oven, turning temperature down to 350ºF. Bake for 30-35 minutes until golden brown. Allow to cool before serving.